Best Indian Restaurants in Bangalore
Food not only satisfies our hunger pangs, and is pleasing to our taste buds. In recent years has become an essential part of our way of living
.
Moreover, with a mushrooming of exotic restaurants having fancy names and even more fancier dishes, is sure to lure people
.
Whether it be for Birthdays/ Anniversaries, or an outing with family and friends, we look forward to good food, drinks at an exquisite setting
. Food is an ingredient that binds us together, touching our senses and uplifting our mood.
Of course, for special occasions, don't we take the liberty of splurging and celebrating in style, at a luxurious place
!
Very often it is hard to decide where to reserve a table, owing to the range of fine dining options to choose from. To make this easy, here's a list of the best Indian restaurants in Bangalore .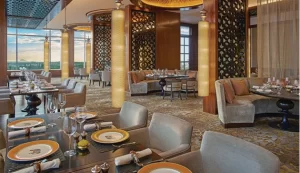 Just
like its name, this 18th floor restaurant at the Shangri-La hotel, Saffron invokes a sense of richness , varied flavors, textures and colors
. Having an elaborate menu on offer, seeing our Indian chats listed, could'nt resist from ordering that. So to tickle the palate at the start was the delightful pani-puri.
The tangy water served in an earthen pot, is reminiscent of devouring this lip smacking snack countless times at your typical street stall. This time though in a luxurious setting
.
Going on to the next item – delectable dahi ke kebab , followed by an array of classic Indian breads and curries and the creamy dal makhani in the main course
.
Deck Views
So engrossed were we enjoying the scrumptious meal, that only towards the end noticed the sweeping views from the large bay windows
. Cool showers, clearing the visibility and rewarding us with scenic views of the city.
Saffron scores high on privacy and luxurious interiors; a great place to spend precious time with family without any interruptions
.
Situated inside the heritage Taj hotel, its colonial architecture, profusion of greenery and landscaped gardens, makes dining here
absolutely
blissful
! The hospitality and homely vibe of the staff too is incomparable.
Whether it be a readiness to
modify
meals according to guest tastes (level of spiciness etc) or request to sit at another table of your choice
.
Having a pre-fixed menu is an interesting concept. The manner in which the food
is plated
and presented to you is nothing less than a work of art.
Kebab platter includes an assortment of kebabs served with Indian breads; or dal makhani accompanied with a bowl of rice
.
Adding a twist to the menu, and transporting you to historic times are the traditional names for dishes
. Chicken broth labeled as `chooze ka `shorba' and prawns grilled in a clay oven are ` bhatti ke jhinge'.
Signing off the hearty meal with the most delicious dessert of melt-in-the-mouth gulab jamuns
. It is worth taking a tour of the sprawling hotel later, and relaxing in the beautiful lobby for a while.
Leela
For another unmatched culinary experience, a
highly
recommended place in Bangalore is the Leela hotel at the Leela Bhartiya City
. You'll
be bowled
over by the ambience and
perfectly
curated dishes at this roof top restaurant. A platter piled with munchies
magically
appears as soon as you arrive, even before you glance at the menu! As you build your appetite nibbling on these, you realize how close you are to the blue skies and fluffy clouds.
The main course comprising of the most succulent chicken tikka, paneer butter masala and layered bread is the perfect fare for the soul – bursting with flavors and aromas
. Much appreciated here is a personal touch. The chef walks up to each table to interact with guests.
Sharing his expertise about the dishes – method of cooking and how they ensure to source the ingredients from the best places of origin, to
retain
pureness and authenticity.
Surely
, a foodies dream come true
.
Continuing further in the series `Best Indian Restaurants in Bangalore', is the Feast at the Sheraton hotel, Rajajinagar.
You'll be spoilt for choice at their well laid out buffet, but we preferred a-la-carte menu. Must try is the grilled chicken. The flawless presentation of the dishes almost seems like the work of a master craftsman.

The smoky, tender chicken on a bed of mashed potatoes, seasoned with herbs, with the colorful veggies on the side
. Pour the sweet-and-sour-sauce on top and it turns out to be the most amazing dish. You can't wait to dig into it. And
isn't the best always saved for the last ?
So, ending on a sweet note – with a heavenly combination of the most gooey brownie topped with a scoop of fig ice-cream, and warm chocolate sauce
.
Overall
, a fine dining experience, that everyone enjoyed.
The post Best Indian Restaurants in Bangalore appeared first on Travel Simply Go.